13th Course on Developmental Biology
Institut Curie and Sorbonne Université organize their 13th International Developmental Biology course.
The aim of the program is to provide the participants a comprehensive coverage of the paradigms, problems and technologies of modern Developmental Biology paying particular attention to stem cells.
Training in theoretical and experimental aspects of normal and abnormal development is developed through a variety of embryonic systems using state-of-the-art instrumentation and methodology.
The program is proposed in two versions (more information available soon) so there will be two registration deadlines:
Long version (3,5 weeks, w/ practicals at Sorbonne University & Seminars at Institut Curie) : July 31st
Short Version (10 days, Seminars at Institut Curie) : September 11th
KEYNOTE SPEAKERS
Jean-Paul VINCENT - UK
Cliff TABIN - US
SPEAKERS
Maria ALCOLEA - UK
Enrique AMAYA - UK
Mariaceleste ARAGONA - DK
Michalis AVEROF - FR
Allison BARDIN – FR
Renata BASTO – FR
Yohanns BELLAÏCHE - FR
Marie BREAU - FR
Alex GOULD - UK
Jerome GROS - FR
Olivier HAMANT - FR
Evelyn HOULISTON - FR
Kim JENSEN - DK
Romain LEVAYER - FR
Jan LOHMANN - DE
Marie MANCEAU - FR
Roberto MAYOR - UK
Kate MCDOLE - UK
Patrick MÜLLER - DE
Elke OBER - DK
Rashmi PRIYA - UK
Teresa RAYON - UK
Francois ROBIN - FR
Verena RUPRECHT - ES
Marta SHAHBAZI - UK
Claudio STERN - UK
Marie Hélène VERLHAC - FR
Julien VERMOT - UK
ORGANIZERS
Allison Bardin (Institut Curie, Paris)
Yohanns Bellaïche (Institut Curie, Paris)
Muriel Umbhauer (Sorbonne université, Paris)
Jean-Léon Maître (Institut Curie, Paris)
Clémence Carron-Homo (Sorbonne université, Paris)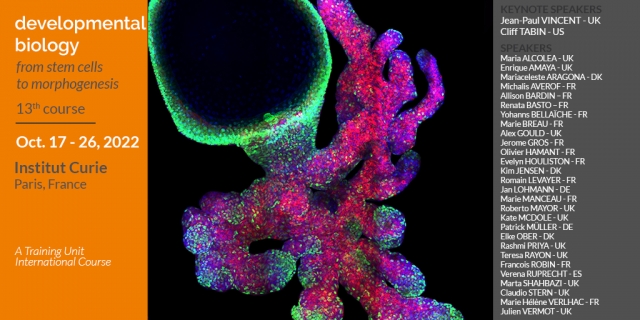 Organized by: