Cell Biology and Cancer - 3rd edition
The general objective of this 3rd Cell biology and Cancer course is to cover different topics in cell biology and cancer cell biology including cell and tissue growth, cell signaling, cell division, cell and tissue organization at different levels: molecular, cellular and in the living organism. In addition, we will have a session dedicated to Physics of tissues.
Registration deadline: February 28, 2021
OBJECTIVES
The objective of the course is to expose PhD and Master students coming from European laboratories to cutting edge concepts in the fields of cell biology and cancer cell biology.
SPEAKERS
Anna Akhmanova, NL
Yohanns Bellaiche, FR
Philippe Chavrier, FR
Stephane Douady, FR
Jerome Gros, FR
Carl-Philipp Heisenberg, Austria
Romain Levayer, FR
Mario Pende, FR
Matthieu Piel, FR
Carmine Settembre, IT
Harald Stenmark, Norway
Marie-Helene Verlhac, FR
Sara Wickström, Finland
KEYNOTE SPEAKERS
Zev Gartner, US
Sally Horne-Badovinac, US
PRACTICAL INFORMATIONS
The course will run for one week, Monday to Friday. There will be 4-5 lectures per day.
All lectures will be in English.
ORGANIZERS
Danijela MATIC VIGNJEVIC, UMR144
Stéphanie MISEREY-LENKEI, UMR144
Guillaume MONTAGNAC, Institut Gustave Roussy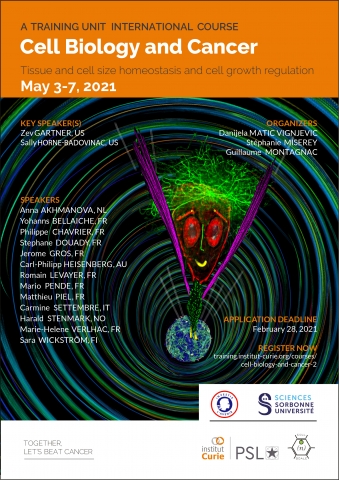 Organized by: