POLISH RNA BIOLOGY MEETING
We are pleased to announce that on September 28-30, 2023 International Institute of Molecular and Cell Biology in Warsaw organizes a scientific conference on the topic of RNA biology – a rapidly growing field of life sciences. World-renowned scientists confirmed their participation as lecturers: Prof. Lori Passmore, Prof. Alfredo Castello, Prof. Andrea Rentmeister and Prof. Witold Filipowicz.
The main purpose of the meeting is to bring together outstanding scientists, specialists in RNA biology from Poland and overseas, to exchange knowledge, experience and facilitate networking. The event will be also an excellent opportunity for PhD students and postdoctoral researchers to present their best research projects. Watch the video invitation and join the conference: https://pl-rna.iimcb.gov.pl/
The Chairman of the Scientific Committee is Prof. Gracjan Michlewski, Head of the Laboratory of RNA-Protein Interactions - Dioscuri Center, IIMCB.
Members of the Scientific Committee are: Prof. Sebastian Glatt, Malopolska Biotechnology Center, Jagiellonian University, Prof. Jacek Jemielity, Warsaw University, Prof. Kinga Kamieniarz-Gdula, A. Mickiewicz University in Poznan, Prof. Elżbieta Kierzek, Institute of Bioorganic Chemistry of the Polish Academy of Sciences in Poznan and Prof. Joanna Kufel, Warsaw University.
The Chairman of the Organizing Committee is Prof. Andrzej Dziembowski, Head of the RNA Biology Laboratory - ERA Chairs Group, IIMCB.
The meeting is organized within the framework of the MOSaIC project, funded by the Horizon2020 ERA Chairs Program.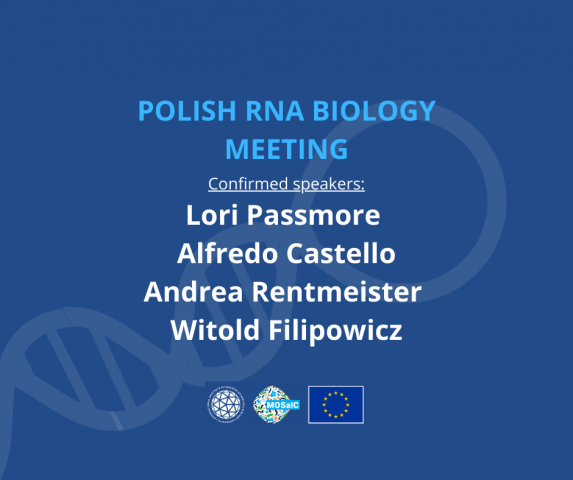 Organized by: