Miles Elliot Lizak was runner-up in the EU-LIFE/Nature Essay Contest: Utopia Institute of Research. He received a 2,500€ prize and was given the opportunity to present his essay at the Envisioning the research centres of the future conference.
Miles dreams of bringing curiosity, daring, and a sense of wonder to science education and research. His passion for science drove him to laboratory research at Moravian College, where he earned a BS in Biochemistry, and then to graduate studies at Lehigh University. Years later, he left feeling like that passion had been utterly wrung out of him.
Returning to academia from a different angle, Miles completed his MSc in Interdisciplinary Studies in Sustainability at Universitat Autònoma de Barcelona. His research focused on imaginative approaches to promoting pro-environmental behaviour, including the use of narrative and immersive experience to facilitate transformative learning in education for sustainability.
Miles has presented his work on live action role-play at several international conferences and Erasmus+ seminars. His most recent project is a roleplaying experience designed for exploratory education on urban metabolism and sustainability.
To access Miles' awarded essay, Scientific enlightenment in the Stupid Questions Office, visit Nature's web page: https://www.nature.com/articles/d41586-023-01856-7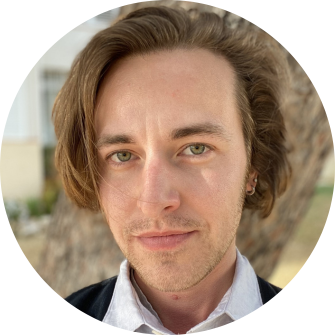 ---