From 3D Light to 3D Electron Microscopy
Keep me posted  Add to calendar
This event on Correlative Light & Electron Microscopy (CLEM) is jointly organized by ZEISS, The Francis Crick Institute, EMBL and VIB.
Imaging life in 3 dimensions and in its most natural form – when imaging biological samples with both light and electron microscopy, the main goal is to elucidate biological processes and their ultrastructural context in three dimensions. In most recent years, technology has pushed the resolution limits in light microscopy and volume-EM methods were named one of 7 technologies to watch by Nature magazine.
When using correlative, or multimodal microscopy, a large variety of different imaging techniques can be combined. New and improved workflows combining two, or more imaging modalities are enabling more detailed insights into biological processes than ever before.
The datasets generated by these new workflows are increasingly large and complex. New developments in data management not only focus on image processing and visualization of these large datasets, but also on i.e. file compatibility, big data handling and storage.
This event will combine scientific sessions with a broad range of workshops where correlative workflows, tools, tips & tricks will be shared between participants and trainers/speakers.
Speakers
Lucy Collinson, The Francis Crick Institute, UK

Elizabeth Duke, EMBL Hamburg, DE

Ben Giepmans, University of Groningen, NL

Antentor O. Hinton, Vanderbilt School of Medicine, US

Nalan Liv, UMC Utrecht, NL

Kedar Narayan, Frederick National Laboratory for Cancer Research, US

and many more.. visit our website for a full overview of all

speakers
Deadlines registration: February 27, 2024
Follow us on Twitter for the latest news.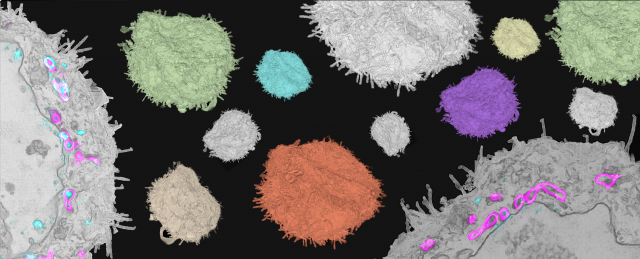 Organized by: