EU-LIFE Webinar - Opportunities for and of postdoctoral researchers in Europe
What is a postdoctoral researcher? What opportunities are there for postdocs in Europe? What opportunities do postdocs bring to Europe? Promoting research careers while delivering the broad scope of the research ecosystem is a key challenge within the European Research Area. Innovative models are urgently needed to promote inclusive and rewarding career opportunities for researchers both inside and beyond academia, in particular at the postdoctoral level. While the familiar trajectory is to progress from postdoc to academia, Europe needs more from its postdocs than only to become academics, and the value of those roles beyond academia needs to be acknowledged. The EU-LIFE institutes believe that providing postdoctoral researchers with the best possible environment to develop rewarding and impactful careers is of crucial importance to feed and sustain the broad scientific ecosystem, allowing it to address global challenges and contribute to the wellbeing of our societies.
In this webinar, we will focus on postdoctoral researchers to debate what are the key obstacles and drivers for careers in research in Europe in and beyond academia.
We will first have a round table with a panel of speakers followed by a Questions & Answers session with the speakers.
Friday, 18th June 2021, 15h-16h30 (CET)
Welcome:
Marta Agostinho, EU-LIFE Coordinator
Luísa Henriques, Coordinator of Research and Space, Permanent Portuguese Representation in the European Union
Speakers:
René Medema,

Chair of EU-LIFE:
What is a postdoctoral researcher? How do we promote postdoctoral researchers careers? What does an impactful research career mean? The view of research institutions.
Mostafa Moonir Shawrav, Chair of the Executive Board of the Marie Curie Alumni Association (MCAA):
What is a postdoctoral researcher? How do we promote postdoctoral researchers? What does an impactful research career mean? The view point of postdocs.
Apostolia Karamali,

Head of Unit R&I Actors and Research Careers, DG Research & Innovation, European Commission

:


What does Europe need from - and how can the ERA contribute to – European researchers' careers?

 

Cecilia Cabello

,

ERAC Standing Working Group on Human Resources and Mobility: 




The Charter & Code for researchers and its implication in the life of researchers and institutions.
Flash talk speakers providing examples of future careers for today's researchers:
Tomoko Asaoka, Associate Director Clinical & Regulatory at Newton Biocapital
Ana Godinho, Head of Education, Communications and Outreach at CERN
Ioannis Legouras, Vice Head, Department Strategic Cooperations and Research Funding
Floor Stam, COO at Flamingo Therapeutics
Moderator:
Cheryl Smythe, member of the EU-LIFE Strategy Group
The webinar is free of charge and open to anyone interested, leadership from research organizations, postdoctoral researchers, researchers at all levels, national and European policymakers, organisations dedicated to research policy.
Registrations are now open here.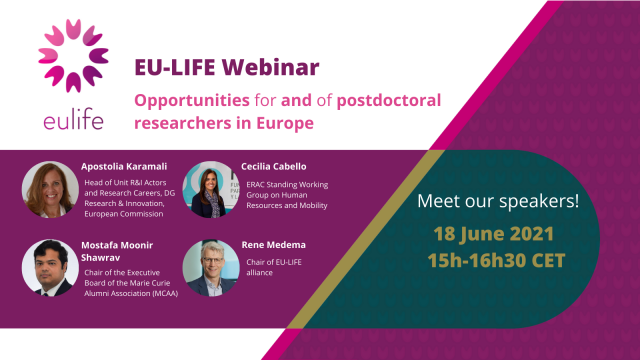 Organized by: