The Leuven Protein Aggregation Meeting
Frederic Rousseau, Joost Schymkowitz, and the Switch Lab are bringing together inspiring speakers from around the world to talk about some of the most exciting research in protein aggregation field during a small and focussed meeting in Leuven. With less than 150 participants in an informal setting, there will be ample opportunity for discussion and interaction among all participants. Poster sessions and blitzes are included in the program to allow contributions from as many attendees as possible.
The interests of the invited speakers encompass a wide range of topics:
the structure and function of amyloidogenic proteins and the mechanism of the formation of amyloid structures, both in the case of functional amyloids as well as in the context of disease, as well as the biophysical and biochemical aspects of protein folding and misfolding in general
the molecular basis of toxicity of amyloids in prion disease and neurodegenerative disorders associated with protein misfolding, the molecular architecture of neurons in health and how it changes in protein aggregation diseases, and ageing, as well as the protective role of polyphosphates against amyloid cytotoxicity
how the proteostasis network (including the extracellular proteostasis) keeps proteins functional, as well as how it can break down, leading to toxic protein aggregation in neurodegenerative disease, cancer, or ageing
the role of protein fibrils in microbiology, the repurposing anti-amyloid compounds as antimicrobial agents, and using metal-containing synthetic amyloids as catalysts
the interaction of the microbial and the human 'amylomes' in health and disease
using biophysical methods to investigate amyloid polymorphism, including differences between patient-derived and synthetic amyloid fibres using cryo-electron microscopy and X-ray micro-crystallography and the properties of misfolding proteins at the nanoscale.
Come join us for this exciting meeting in Leuven's 'Groot Begijnhof', a UNESCO world heritage site that dates from the 13th century. Besides the inspiring scientific program, participants will have also ample networking opportunities during the poster sessions and conference dinner.
Follow us on Twitter for the latest news.
*Campaign Image by Qiang Guo and Ruben Fernandez Busnadiego, reproduced with permission from Cell Press*
Poster information
Format: A0 (841 x 1189 mm / 33.1 x 46.8 in), portrait orientation.The 2 best posters will win the poster prize!
Deadlines:
Early Bird: 10 August 2022
Late Registration: 7 September 2022
Abstract deadline: 20 July 2022
Find out more here: The Leuven Protein Aggregation Meeting
Speakers:
Della David

-

German Center for Neurodegenerative Diseases (DZNE), DE

Marcus Fändrich

-

Institute of Protein Biochemistry, Ulm University, DE

Rubén Fernandez-Busnadiego

-

University of Göttingen, DE

Ursula Jakob

-

University of Michigan, US

Ivan Korendovych

-

Syracuse University NY, US

Sara Linse

-

Lund University, SE

Meytal Landau

-

Technion-Israel Institute of Technology Haifa, IL

Ellen Nollen

-

University of Groningen, NL

Sheena Radford

-

University of Leeds, UK

Francesco Ruggeri

-

University of Cambridge, UK

Stefan Rüdiger

- U

trecht University, NL

Louise Serpell

-

University of Sussex, UK

Witold Surewicz

-

Case Western Reserve University Cleveland, US

Wei-Feng Xue

-

University of Kent, UK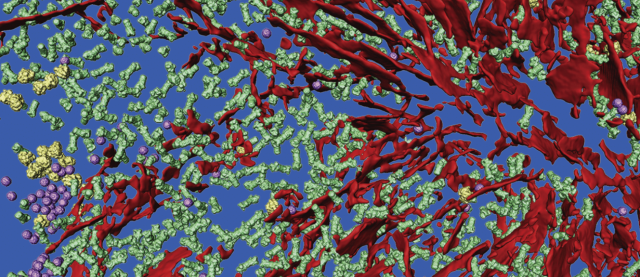 Organized by: