It's Time We Talk About Patient Engagement
This webinar will serve as an introduction to researchers who are new to patient engagement and curious to learn more about good practices. While academic researchers are gradually involving patients and citizens in their research, meaningful patient engagement practices are challenging to develop in academia for various reasons such as lack of human and financial resources, or limited awareness of the tools and services available to guide researchers in their patient engagement journey.
EU-LIFE, together with the European Patients' Forum (EPF), the European AIDS Treatment Group (EATG) and the European Research Infrastructure for Translational Medicine (EATRIS) join forces to inspire and encourage academics to get started in Patient Engagement.
Join us for an hour of interesting roundtable discussion and a demonstration of the recently launched Patient Engagement Resource Centre (PERC) developed by the EATRIS-Plus project.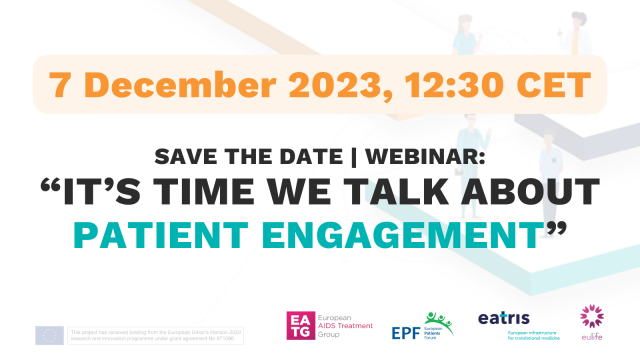 Organized by: