25/7/2023
2022 in a nutshell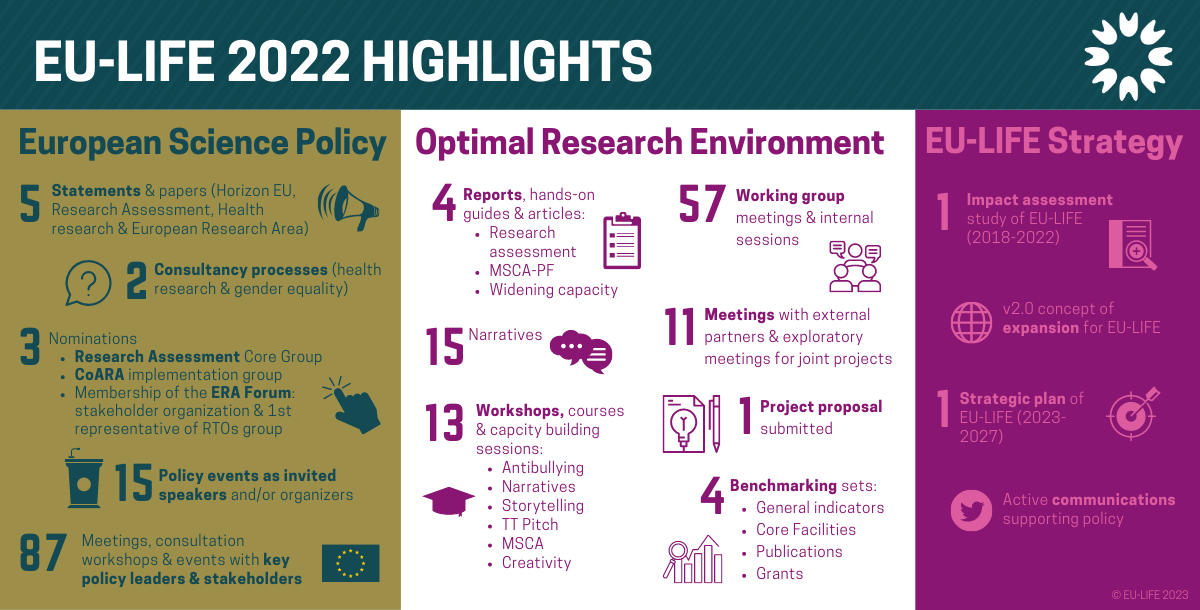 Welcome to the EU-LIFE 2022 highlights!
In 2022, emerging from the challenges posed by the global pandemic, EU-LIFE invested its focus towards designing a robust strategy for the upcoming years, based on lessons learned from our previous experience.
In fact, EU-LIFE's impact assessment study performed in 2022 reaffirmed its influential role as a relevant stakeholder in EU Research and Innovation policy. Through consultations with key collaborators, stakeholders, and policy makers, it was evident that EU-LIFE's voice is respected and heard across Europe, helping shaping crucial policy decisions. Internally, we conducted surveys that provided valuable insights into the organization's significance at the institute level, among staff members, and within the scientific community. The results underscored the organization's value and its positive impact on research institutions and professionals. This informed the formulation of a strategic plan for the upcoming five years, guiding EU-LIFE's future endeavours.
In 2022, EU-LIFE continued playing a relevant role in contributing to European R&I policy, in particular voicing the needs and proposals from the scientific community and independent research institutes.
We put a particular focus in the area of research assessment. The organization's contributed actively as part of the core group for drafting and successful closure of an agreement for the reform of research assessment led by the European Commission. In addition, we worked closely with the EC and stakeholders on the implementation of CoARA – the Coalition for the reform of the research assessment. This achievement demonstrates EU-LIFE's commitment to driving progress in research practices. Moreover, EU-LIFE actively engaged in furthering the European Research Area (ERA) policy. Collaborating closely with the European Commission and Member States within the ERA Forum agenda, EU-LIFE demonstrated its dedication to fostering a dynamic and collaborative research environment that spans national borders.
As for our priority area of building "Optimal research environments through institutional practice & Sharing", EU-LIFE working groups worked diligently to maintain a vibrant community focused on institutional collaboration, research governance capacity, and continuous improvement of research culture. Anti-bullying and harassment, research narratives, storytelling, Tech Transfer scouting, postdoctoral researchers, creativity in science were among topics developed in workshops, guidelines and capacity building sessions. Their efforts have fostered an environment where knowledge sharing and cooperation flourish, contributing to the advancement of scientific research and innovation.
In conclusion, through impactful initiatives and strategic planning during 2022, EU-LIFE has contributed to the advancement of research practices and the development of a thriving research community across Europe. A great starting point for 2023, the year of EU-LIFE 10th anniversary!​​