26/4/2021
EU-LIFE institutes actively combating COVID-19
It has now been more than a year since the start of the Coronavirus outbreak. Facing this global healthcare crisis, EU-LIFE members have been working actively in combating coronavirus. As leading research institutes, since the very first day they have been helping their national authorities and healthcare structures with immediate needs of diagnosis and research in COVID-19 while ensuring the continuation of their main research activities as possible. Here, we highlight some examples of EU-LIFE institutes' research activities to overcome the COVID-19 pandemic.
Critical insights to understanding COVID-19
Insights into how to better understand and treat COVID-19 are utterly needed. Given the importance and urgency, it is critical for the scientific community to understand how the virus evolves during human-to-human transmission and assess its potential to subvert vaccine responses or acquire resistance against future antiviral drugs. Within the community of more than 8000 researchers from EU-LIFE institutes, there are currently many lines of research that can contribute to this need.
For example, in Berlin, a research team from MDC and Charité has shown how antiviral signalling molecules can promote the replication of the virus. Several research teams are also participating to the effort in sequencing and studying the genome RNA structure of the SARS-CoV-2. At FIMM in Finland, the "COVID-19 host genetics initiative" - a community effort to identify genetic variants associated with COVID-19 susceptibility and severity – has been bringing together almost 150 partnering studies that reveal several gene variants associated with COVID-19 severity. At national level, the institute has also been producing sequence data to directly support the Finnish health care authorities.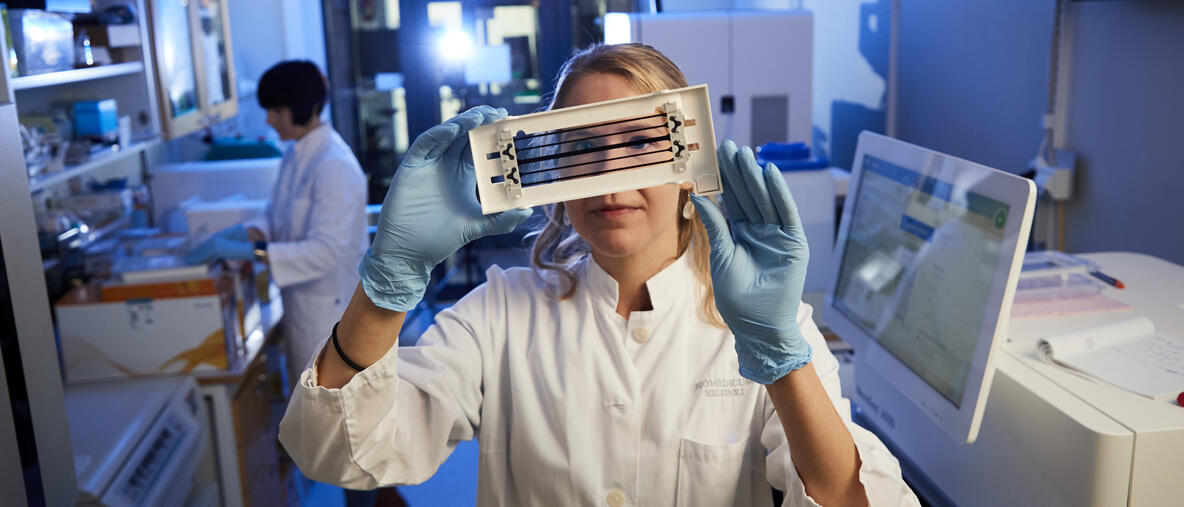 In Austria, scientists from CeMM in collaboration with the Medical University of Vienna have been sequencing the SARS-CoV-2 genome since March 2020. At the end of 2020, they released deep insights into transmission and mutation properties of SARS-CoV-2 in Austria. Building on this, they recently published their findings on how SARS-CoV-2 mutations can complicate immune surveillance of human T-killer cells, providing important clues for the further development of vaccines. Other sequencing efforts include those held by our members IGC in Portugal, CRG in Spain or IIMCB in Poland, where for example, researchers from the institute together with scientists from the University of Groningen and Leiden University recently studied in detail the SARS-CoV-2 coronavirus RNA genome structure. This collaborative research revealed and established a firm foundation for future work aimed at developing potential small-molecule drugs for the treatment of SARS-CoV-2 infections and possibly also infections by other coronaviruses.
In Spain, the CRG has led research on the susceptibility of SARS-CoV-2 infection across ten different species, helping guide policymakers to prevent building up animal reservoirs from which different variants of the coronavirus can re-emerge at a later date. The CRG has also spearheaded efforts to understand how COVID-19 affects the health of vulnerable groups like people with Down syndrome, revealing the genetic factors that may expose or protect people living with the condition and boosting calls for priority vaccination for this medically vulnerable group.
As a final example, a team of immunology experts from our member in the UK at the Babraham Institute and in Belgium at the VIB Centre for Brain and Disease Research and KU Leuven have come together and worked with members of the CONTAGIOUS consortium to explore the immunological features associated with the development of severe and life-threatening disease following COVID-19.
Developing new drugs against COVID-19 and repurposing existing ones
Again in Belgium, the COVID-19 antibody developed by the VIB-UGent teams of Xavier Saelens and Nico Callewaert has recently completed the drug development trajectory and demonstrated its effectiveness against new variants. This makes VIB's antibody one of the most future-proof antibody therapies for COVID-19 currently under development. VIB new spin-off ExeVir Bio will bring this antibody treatment to the clinic.

Also developing SARS-CoV-2 antiviral drugs, the IIMCB in Poland is a member of the Exscalate4CoV project, an international consortium funded by the European Commission. Using an EU-backed supercomputing platform, in June 2020, Exscalate4CoV has announced that an already registered generic drug used to treat osteoporosis, Raloxifene, could be an effective treatment for COVID-19 patients with mildly symptomatic infection. In November 2020, the Consortium carried out the most complex supercomputing simulation ever realized in order to simulate the behaviour of the SARS-CoV-2 virus to identify the best therapeutic treatment.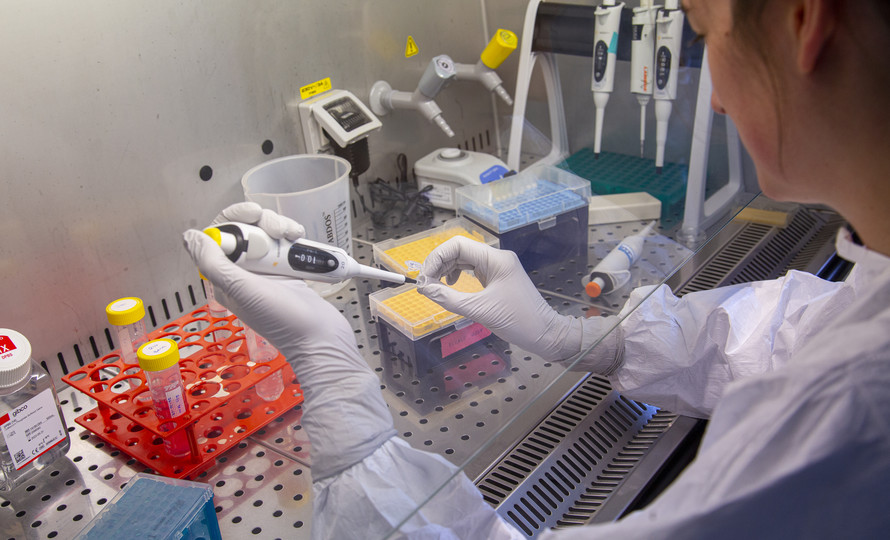 Many research groups have been actively working towards designing and performing studies to gain insight into the immune response to COVID-19 and how this could be improved, specifically in the most severely affected patients. At VIB, Bart Lambrecht has taken the lead in several clinical trials across Belgium aiming to repurpose existing drugs to treat COVID-19 patients such as the SARPAC Clinical Trial of Leukine® that recently demonstrated significant improvement in lung function in hospitalized COVID-19 Patients. At Institut Curie, France, the clinical trial on Abivax treatment, has been declared national priority of research in France at the beginning of the year.
Vaccine effectiveness studies
The IGC, in Portugal, has been developing the INFO-VAC: SARS-CoV-2 vaccine effectiveness study crucial to know the immediate and long-term effects, as many questions remain unanswered in clinical trials. The studies are targeted to different age groups of the population, different vaccines available in the country and in partnership with hospitals and municipalities. The set of data collected will be shared with the National Health Institute Dr. Ricardo Jorge, which will speed up, with European Agencies (ECDC), the extended national monitoring which will allow to provide information for possible updates of the global policy recommendations.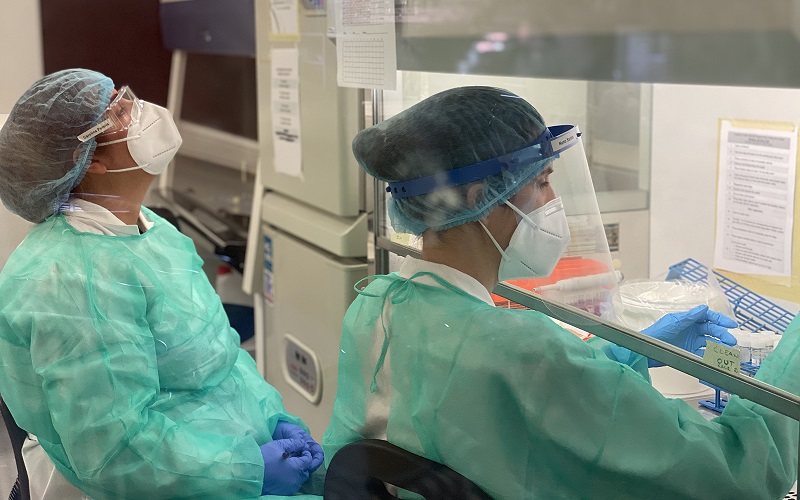 In the UK, immunologists at the Babraham Institute undertook a vital assessment of the effects of age on the immune response to Oxford–AstraZeneca COVID-19 vaccine. The research provided insight on the details at cellular level of the complex immune response and highlighted differences in the immune response regarding age.
Finally, researchers co-led by the NKI are running a clinical study to investigate how COVID-19 vaccines affect patients with cancer who are treated with chemotherapy or immunotherapy.

Raising awareness and offering accessible information on vaccines
Regarding the public perception of the COVID-19 vaccines, many EU-LIFE's institutes have also been developing outreach activities and offering scientifically-based information to the general public in an understandable way (read the news).
Novel test diagnostics
In Greece, the Biosensors lab at our associate partner IMBB-FORTH and BIOPIX-T, a FORTH spin-off company, have developed a novel device for the rapid molecular detection of COVID-19  at the point of care. This new portable device, under the brand name "Pebble", received European funding under the emergency action for managing the coronavirus outbreak and will become commercially available in the next few months.
In Portugal, IGC, in partnership with hospitals, developed a study to use saliva as an effective sampling for detecting Covid-19 infection in adults and children. As the first data revealed to be promising, the test is now used for monitoring COVID19.
This, however, is not an exhaustive list of how EU-LIFE members are rallying to put their experience, expertise, and infrastructure to contribute to the global efforts during the COVID-19 pandemic. Please find more examples or extended information in these following specific weblinks:

Center for Genomic Regulation (CRG, Spain) 
Flanders Institute For Biotechnology (VIB, Belgium) 
Institut Curie (France)
Institute for Molecular Medicine Finland (FiMM, Finland) 
Instituto Gulbenkian de Ciência (IGC, Portugal)
International Institute of Molecular and Cell Biology in Warsaw (IIMCB, Poland)
Max Delbrück Center for Molecular Medicine in the Helmholtz Association (MDC, Germany)
Research Center for Molecular Medicine of the Austrian Academy of Sciences (CeMM, Austria) 
The Babraham Institute (Babraham, UK)
The Netherlands Cancer Institute (NKI, The Netherlands)
The University of Copenhagen Biotech Research & Innovation Centre (BRIC, Denmark)