16th CeMM Landsteiner Lecture
Benjamin F. Cravatt
Professor and Norton B. Gilula Chair of Chemical Biology, Department of Chemistry, The Scripps Research Institute (USA)
Exploring human biology using persistent chemistry
Monday, 8 May 2023, 6:00 pm*
Festive Hall, Austrian Academy of Sciences
Dr.-Ignaz-Seipel-Platz 2, 1010 Vienna
*Due to COVID measures, we ask all participants to arrive at least 30 minutes before the start of the event.
Host: Giulio Superti-Furga
Register by 30 April 2023: https://cemm.at/events/detail/landsteiner-lecture-2023
Benjamin Cravatt is Professor and Norton B. Gilula Chair of Chemical Biology in the Department of Chemistry at The Scripps Research Institute. His research group is interested in developing chemical proteomic technologies that enable protein and drug discovery on a global scale and applying these methods to characterize biochemical pathways that play important roles in human physiology and disease. He obtained his undergraduate education at Stanford University, receiving a B.S. in the Biological Sciences and a B.A. in History. He then received a Ph.D. from The Scripps Research Institute (TSRI) in 1996, and joined the faculty at TSRI in 1997. His honors include a Searle Scholar Award, the Eli Lilly Award in Biological Chemistry, a Cope Scholar Award, the ASBMB Merck Award, the RSC Jeremy Knowles Award, the AACR Award for Achievement in Chemistry in Cancer Research, the Wolf Prize in Chemistry, and memberships in the National Academies of Medicine and Sciences.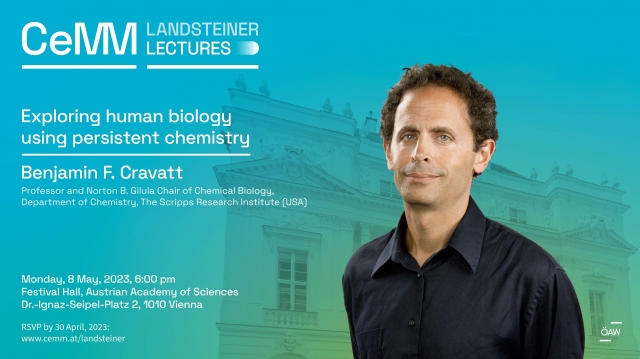 Organized by: