Course on SARCOMAS in children and AYA
Sarcoma is a very heterogeneous group of tumors derived from the mesenchyme. This course will focus on pediatric, adolescents and young adult sarcomas. A particular emphasis will be dedicated to new insights into genetic and biological findings and to the perspectives for the design of new treatment strategies.
OBJECTIVES
The aim of this course is to provide an overview of the recent findings and challenges yet to overcome in adolescent and young adults bone and soft tissue sarcomas: from biological characteristics to patient care.
SPEAKERS
Cristina Antonescu - US
Ana Banito - DE
Kevin Beccaria - FR
Jean-Yves Blay - FR
Franck Bourdeaut - FR
Hervé Baisse - FR
Michela Casanova - IT
Charles Chan - US
Sonja Chen - US
Nadège Corradini - FR
Vincent Couloigner - FR
Olivier Delattre - FR
Andrea Ferrari - IT
Nathalie Gaspar - FR
Dominique Heymann - FR
Marie Karanian - FR
Michèle Kind - FR
Frédérique Larousserie - FR
Valérie Laurence - FR
Véronique Minard-Colin - FR
Antoine Moya Plana - FR
Poul Sorensen - CA
Monika Sparber-Sauer - DE
Sandra Strauss - UK
Didier Surdez - CH
Alejandro Sweet-Cordero - US
Franck Tirode - FR
Daniel Orbach - FR
Andreas Von Deimling - DE
Sarah Watson - FR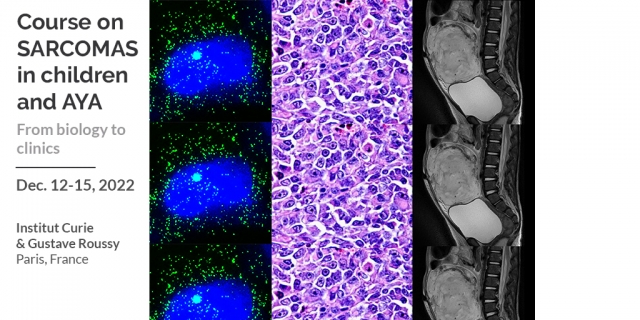 Organized by: