Survey by EU-LIFE Core Facilities Working Group
The EU-LIFE Core Facilities (CF) Working Group (WG) has surveyed CFs at member institutes about their financial indicators, operational practices, as well as staff profiles and career support. The survey was carried out in autumn 2020, collecting feedback from the CF WG, covering a total of 126 CFs from 12 partner institutions. Additionally, 102 CF managers provided information about the more qualitative and operational aspects of individual CFs.
In 2021, the feedback from these surveys was analysed and a summary of our findings is available for download as a PDF here. The associated report will serve as a reference document to help EU-LIFE partner institutes share knowledge about common challenges that CFs face, how to best support their staff, and how to bring the best technology and skills to keep research and innovation at the cutting edge.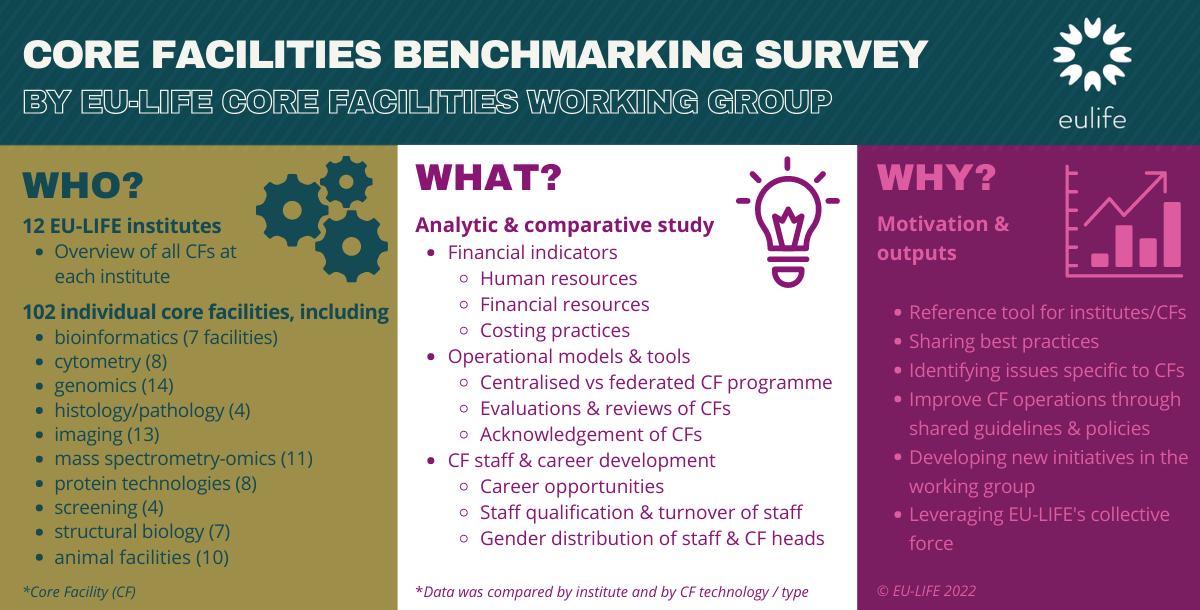 We anticipate that:  
Individual CF managers will use the report for ideas and advice on operational and/or financial strategies for developing sustainable CFs
Institutions will use the report to assess their support for existing facilities, and the investment and conditions necessary to create new facilities.
Institutions may also use the report to identify a partner institute that is better positioned on specific issues (e.g. on career support or gender balanced responsibilities) and consult them.
To follow up and confirm trends, EU-LIFE CF WG will repeat the survey every two years for financial indicators and selected key performance indicators (KPIs). The more detailed qualitative feedback from individual CF managers will be requested every four years.
If you would like to find out more about this initiative, please contact: sofie.christensen@eu-life.eu