4th course on Computational Systems Biology of Cancer: Multi-omics and Machine Learning Approaches
The diversity across tumors from different patients and even across cancer cells from the same patient makes the picture very complex. The idea of 'personalized' or 'precision' medicine has been suggested, aiming to find tailored treatment regimen for each patient according to the individual genetic background and tumor molecular profile. This attempt is achievable thanks to sufficient molecular characterization of cancers accumulated using high-throughput technologies and advanced imaging technologies. However, despite availability of cancer multi-scale data, they are not fully exploited to provide the clue on deregulated mechanisms that would guide better patients stratification and to specific treatment in cancer.
This course is a FEBS-supported event.
Please note that due to the current pandemic situation and strict regulations regarding face-to-face meetings, this will be a REAL-TIME VIRTUAL COURSE (Paris Time, GMT+1).
OBJECTIVES
The objective of the course is to promote better integration of computational approaches into biological and clinical labs and to clinics. We aim to help participants to improve interpretation and use of multi-scale data that nowadays are accumulated in any biological or medical lab.
This year, the course will particularly focus on application of Machine Learning (ML) approaches for multi-omics data analysis in cancer research and benefits for clinics.
KEYNOTE SPEAKERS
Laure FOURNIER - FR
Yvan SAEYS – BE
SPEAKERS
Julio SAEZ-RODRIGUEZ - DE
Magnus RATTRAY - UK
Emmanuel BARILLOT - FR
Anaïs BAUDOT - FR
Olivier AYRAULT - FR
Nathalie VIALANEIX - FR
Carl HERRMANN - DE
Andrei ZINOVYEV - FR
Kay NIESELT - DE
Stéphanie ALLASSONNIERE - FR
Samuel KASKI - FI
Irène BUVAT - FR
Asmund FLOBAK - NO
Joakim LUNDEBERG - SE
Pierre FILLARD - FR
Nikos PARAGIOS - FR
Thomas‎ WALTER - FR
Jean-Philippe VERT - FR
Chloé-Agathe AZENCOTT - FR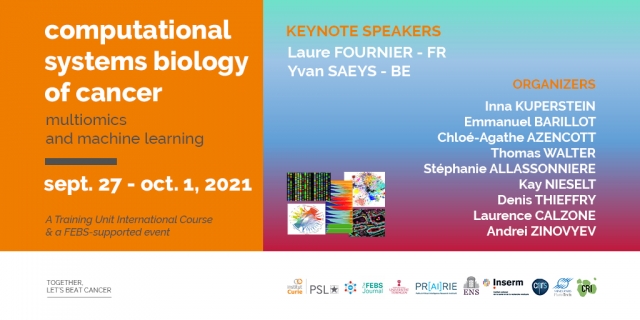 Organized by: