5th Course on Breast Cancer
This 5th edition of the international breast cancer course organized by the Institut Curie offers a comprehensive overview of current topics on clinical and biological aspects of breast cancer. This course brings together internationally renowned experts who will present the latest innovations in the clinical management of breast cancer, on both diagnostic and therapeutic aspects, as well as the latest advances in the understanding of biological mechanisms such as plasticity, tumor heterogeneity or genomics of breast cancer. The focus will be on the latest cutting-edge technologies and innovative approaches, including artificial intelligence and single cell analysis. There will also be a focus on luminal B breast cancers, including lobular carcinomas. 
The format of the course is designed to encourage exchanges and to allow students to interact with researchers from the Institut Curie and from several international institutes.
KEYNOTE SPEAKERS
Fabrice ANDRÉ - FR
Carlos CALDAS - UK
Collectif TRIPLETTES ROSES - FR
Patrick DERKSEN - NL
Christine DESMEDT - BE
Jos JONKERS - NL
Guido KROEMER - FR
Diether LAMBRECHTS - BE
Jeffrey POLLARD - UK
Kornelia POLYAK - US
Alain PUISIEUX - FR
Jorge REIS-FILHO - US
Georgios SFLOMOS - CH
Christos SOTIRIOU - BE
Andrew TUTT - UK
Jean-Philippe VERT - FR
Laurence ZITVOGEL - FR
SPEAKERS
François-Clément BIDARD - FR
Irène BUVAT - FR
Suzette DELALOGE - FR
Silvia FRE - FR
Mathilde HIS - FR
Priscilla KELLY - US
Widad KHIDER (Les Triplettes) - FR
Youlia KIROVA - FR
Caroline MALHAIRE - FR
Eliane PIAGGIO - FR
Yolanda PREZADO - FR
Andy RANKIN - US
Fabien REYAL - FR
Raphaël RODRIGUEZ - FR
Emanuela ROMANO - FR
Meriem SEFTA - FR
Marc-Henri STERN - FR
Dominique STOPPA-LYONNET - FR
Céline VALLOT - FR
Anne VINCENT-SALOMON - FR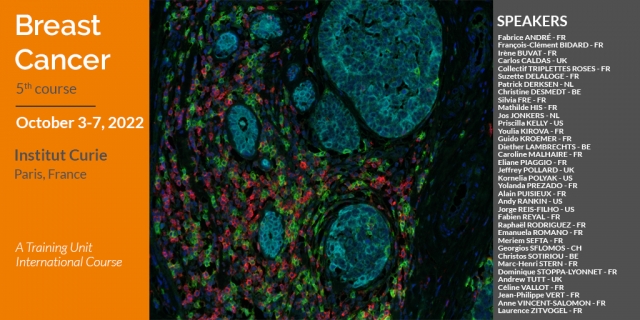 Organized by: