Drug Development in Oncology - 1st edition
The objective of this course is to give an overview on the development of drugs in oncology. 
It will focus on the preclinical and clinical phases of drug development, including the design and methodology of clinical trials, as well as precision medicine trials and thevalue of implementation of molecular tumor boards.
Clinical development of all anti-cancer drugs, including chemotherapy, targeted therapies and immunotherapy will be covered. Regulatory and economic aspects will also be discussed. 
To view the program please click here
SPEAKERS
BAYLE Arnaud - FR
BOGAERTS Jan - BE
BORCOMAN Edith - FR
BRAÑA Irene - ES
CALLENS Céline - FR
CLARK Anderson - US
FERNANDEZ Xosé - FR
HOUOT Roch - FR
KAMAL Maud - FR
LE TOURNEAU Christophe - FR
MAZARELLA Luca - IT
PAOLETTI Xavier - FR
PEREZ Franck - FR
PROVOST Claire - FR
RATAIN Mark - US
REZAI Keyvan - FR
SERVANT Nicolas - FR
STATHIS Anastasios - CH
VERHEUL Henk - NL
VON DER LEYEN Heiko - DE
OBJECTIVES
Strategy of preclinical development
From basic to clinical research
Preclinical development and animal models
Molecular screening
Methodology of clinical trials and judgment criteria (Phase I, II and III)
Evaluation of response to treatment
Design of dose finding studies
Toxicity assessment
Pharmacokinetics & Radiopharmacology 
Precision medicine in oncology
Precision medicine clinical trials
Molecular tumor boards and screening programs
Identification of biomarkers in oncology
Bioinformatics and data integration
Processing algorithms and standard of proof
Therapeutic strategies
Chemotherapy, radiotherapy, targeted therapies and immunotherapy
New therapeutic strategies (including Nanoparticles and CarT cells )
Regulatory aspects of clinical trials
Data management and exploitation
Economic models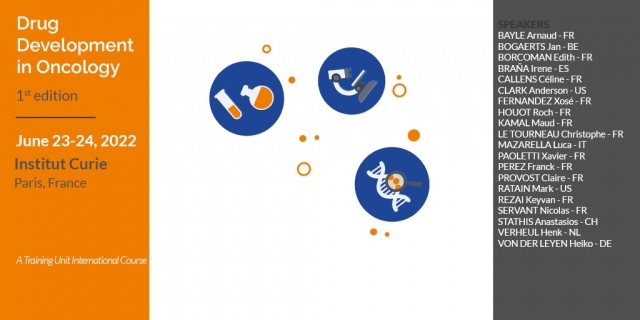 Organized by: