EU-LIFE ERC Masterclass 2023
Members of the EU-LIFE Grants and Funding Strategies Working Group organize an online ERC Master Class on 21-22 June 2023. The workshop is for ERC Starting and Consolidator applicants and includes a panel discussion with members from the ERC Scientific Council and a project pitch session where the applicants get to discuss their project with ERC panel members and grantees. The workshop also has training sessions on topics such as general structure of an application, evaluation process, budget, and CV, conducted by experts from the EU-LIFE Working Group.
This event is addressed to ERC Starting and Consolidator applicants from EU-LIFE research institutes.
🎯 18 @ERC_Research Starting & Consolidator applicants from 9 #EULIFE institutes participate in this year's #ERC Masterclass, where they get specific #training & have the chance to pitch their project to ERC grantees & experts.

A lot to take home the 1st day & ready for today!⬇️ pic.twitter.com/pnGCbzWCZP

— @EULIFEnews (@EULIFE_news) June 22, 2023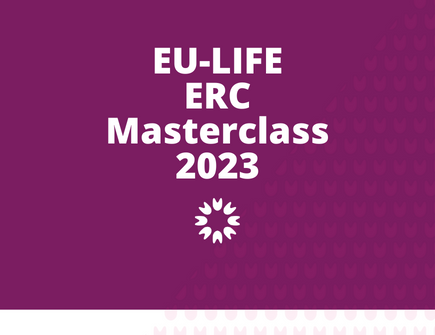 Organized by: