Non-Coding Genome - 11th course
This course will explore the versatility of non-genic DNA elements and non-coding RNAs across a spectrum of cellular processes, in humans and model organisms, and their implication in physiology and disease. Internationally recognized experts will present their latest findings related to the identification and functional characterization of the noncoding genome and discuss novel concepts in genome regulation and evolution, with a strong emphasis on experimental and computational tools. Thematic sessions will include long and small non-coding RNAs, transposable elements, structural DNA repeats and non-coding regulatory elements. This course will offer to young students and research fellows the opportunity to broaden their knowledge and discuss their work with an international scientific community in a warm and stimulating environment at  Institut Curie in Paris.
OBJECTIVES
The participants of the course will have an opportunity to:
enlarge their knowledge of the non-coding genome and RNA thanks to conferences animated by internationally renewed scientists;
present their own research during the Poster sessions and discuss it with colleagues;
present recent research articles in the field of non-coding genome during Journal clubs;
train their communication skills in English;
establish or enlarge their professional contacts;
get insights into carrier development in academic research and beyond.
SPEAKERS
Marie-Laure BAUDET – IT
Marc BÜHLER – CH
Vincent COLOT – FR
Anabelle DECOTTIGNIES – BE
Sandra DUHARCOURT – FR
Michael IMBEAULT – UK
Molly GALE-HAMMELL – US
Lars JANSEN – UK
Rory JOHNSON – CH
Gunter MEISTER – DE
Pieter MESTDAGH – BE
Michael NODINE – AT
Serge PLAZA – FR
Marc REMKE – DE
Michael RIEGER – DE
Jean-Yves ROIGNANT – CH 
Edda SCHULZ – DE
Lovorka STOJIC – UK
KEYNOTE SPEAKERS
Julius BRENNECKE – AT
Stefanie DIMMELER – DE
ORGANIZERS
Sven Diederichs (Albert-Ludwigs-University Freiburg, DE)
Antonin Morillon (UMR3244, Institut Curie, FR)
Marina Pinskaya (UMR3244, Institut Curie – Sorbonne Université, FR)
SCIENTIFIC COMMITTEE
Déborah Bourc'his (Institut Curie, FR)
Clément Carré (Sorbonne Université, IBPS, FR)
Maiwen Caudron Herger (German Cancer Research Center DKFZ, Heidelberg, DE)    
Ines Drinnenberg (Institut Curie, FR)
Arturo Londoño (Institut Curie, FR)
Alena Shkumatava (Institut Curie, FR)
Maxime Wery (Institut Curie, FR)
DISCUSSION & WORKSHOPS
1) Tutorial: "How to give a scientific presentation" 
2) Round table and workshop "Career development in academia and beyond" 
PERSONAL WORK
1) Journal clubs
Participants will present latest research articles from the field of Non-coding genome.
2) Poster sessions 
Participants will present and discuss their current research projects during several poster sessions (poster format A0, 84,1 x 118,9 cm).
3) Elevator pitch (90 sec. per person)
PRACTICAL INFORMATIONS
Topics:
Expression & regulation of non-coding RNAs
Long non-coding RNAs
Small non-coding RNAs
Centromeres, telomeres and genome integrity
Mobile DNA
Non-coding DNA & RNA in clinics, lab and industry
Registration deadline: February 28, 2022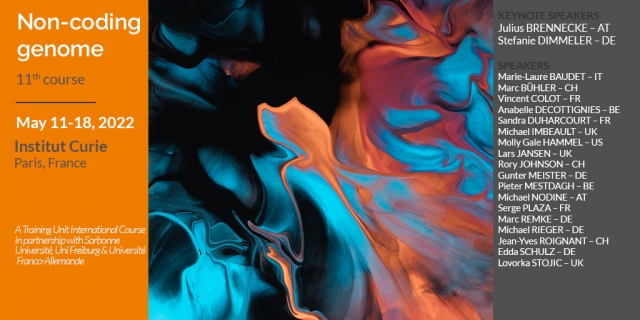 Organized by: