16/11/2022
EU-LIFE signs agreement on Reforming Research Assessment and shares views for the future
EU-LIFE signed today the Agreement on Reforming Research Assessment in Europe and is committed to be an active member of the new Coalition for Advancing Research Assessment (CoARA) that will implement the reform. The alliance also released a statement with its views on key aspects regarding the next steps and a list of recommendations to help ensure a successful implementation.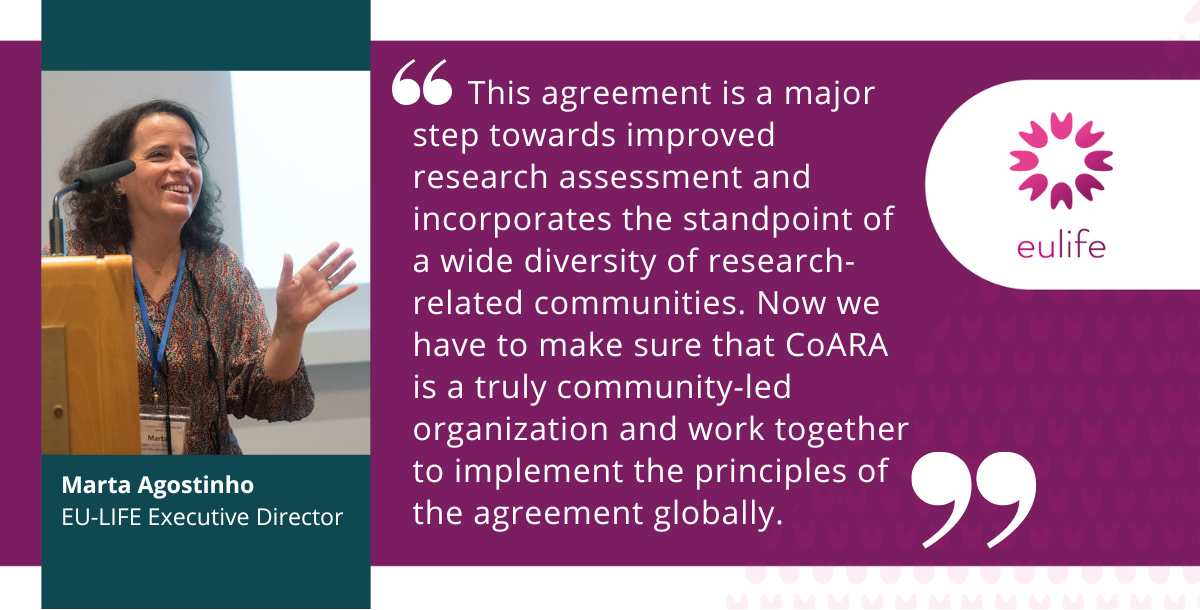 EU-LIFE had a valuable role in the drafting of the agreement as member of the core group as well as in the building of CoARA through its Implementation group. As a key stakeholder, EU-LIFE has been actively involved in the co-creation of the research assessment reform long since the earliest European Commission's consultations that gave rise to the EC Scooping paper "Towards a reform of the research assessment system". In order to promote community engagement with policy makers, the alliance also developed initiatives such as the EU-LIFE webinar on Research Assessment.
The upcoming Constitutive Assembly (1 December 2022) is the first general meeting of the Coalition and marks the start of the implementation process. The agenda for the meeting includes the election of Steering Board members and President of the Coalition, designation of the Coalition Secretariat host organisation(s), discussion of Rules of Procedure for Working Groups and adoption of the first budget.
Together with all the organisations working on this topic and with CoARA at the centre, EU-LIFE is committed to bring about real change in Europe and beyond. This process is expected to be very challenging. The recommendations put forward by EU-LIFE in its recent statement can be summarised as follows:
Keep focus on community engagement
Find a good pace for the reform
Strive for light structures
Bottom-up and top-down commitment
Go global
A reform needs sustainable support
The agreement is open for signature and we encourage organisations committed to research excellence in Europe to join the initiative. It has been signed by over 100 organisations from 25 countries so far, including the European Commission, and we anticipate that these numbers will grow in the upcoming months.