EuReCa International PhD Program - 11 PhD Positions at Institut Curie in Sept. 2021
Institut Curie is recruiting 11 PhD students through its new international PhD program EuReCa.
This program, part funded by the European Commission's MSCA COFUND scheme, provides PhD students with a 3-year full-time doctoral contract, a high level interdisciplinary, inter-sectorial, and international training with personalized career development plans including coaching, training, secondments and mentoring.
PhD research projects in life sciences cover Institut Curie's main research domains:
Biology & Chemistry of Radiations, Cell Signaling & Cancer
Development, Cancer, Genetics & Epigenetics
Integrative Tumour Biology, Immunology & Environment
Multiscale Physics-Biology-Chemistry & Cancer
Translational Research
Institut Curie brings together a world-class multidisciplinary cancer research center and a model hospital group in Paris and surroundings. By embracing cross-disciplinary approaches, it drives the discovery of more effective treatments and leads to improved patient care.
Open positions
Project 1 - Acentrosomal microtubule organization in neural stem cells
Thesis supervisor(s): Alexandre Baffet
Research group: Cell Biology of Mammalian Neurogenesis
Project 2 - Deciphering the role of transcription-replication conflict and R-loop in causing genome instability in breast cancer
Thesis supervisor(s): Chunlong Chen
Research group: Replication Program and Genome Instability
Project 3 - Extracellular Vesicles in invasion, metastasis and ferroptosis resistance: a specific role for CD133/Prominin in aggressive gastrointestinal carcinoma
Thesis supervisor(s): Gisela D'Angelo & Sarah Watson
Research group: Structure and Membrane Compartments
Project 4 - A multidisciplinary approach to determine the 3-dimensional organization of centromeres in mitosis
Thesis supervisor(s): Ines Drinnenberg
Research group: Evolution of Centromeres and Chromosome Segregation
Project 5 - Characterization of the functions of protein arginine methyltransferase 4 (PRMT4/CARM1) in triple-negative breast cancers
Thesis supervisor(s): Thierry Dubois
Research group: Breast Cancer Biology
Project 6 - Novel chemical tools to study base-excision DNA repair
Thesis supervisor(s): Anton Granzhan & Sophie Bombard
Research group: Chemistry for Nucleic Acid Recognition
Project 7 - Control of gut development and physiology by cytokine signaling
Thesis supervisor(s): Pedro Hernandez
Research group: Development and Homeostasis of Mucosal Tissues
Project 8 - Immune and epigenetic biomarkers assessments based on a basket prospective trial with Pembrolizumab and Vorinostatin patients with late stage squamous cell carcinoma
Thesis supervisor(s): Christophe Le Tourneau & Nicolas Servant
Research group: Bioinformatics and Computational Systems Biology of Cancer
Project 9 - Mechanotransduction at the Golgi apparatus
Thesis supervisor(s): Jean-Baptiste Manneville & Stéphanie Miserey-Lenkei
Research group: Molecular Mechanisms of Intracellular Transport
Project 11 - Genetic determinants of tumor microenvironment in high grade serous ovarian carcinomas
Thesis supervisor(s): Marc-Henri Stern & Manuel Rodrigues
Research group: DNA Repair and Uveal Melanoma
Project 12 - Comparative mechanisms of spindle assembly dynamics and scaling
Thesis supervisor(s): Phong Tran & François Nedelec
Research group: Cytoskeletal Architecture and Cell Morphogenesis

Eligibility criteria
Early-stage researchers (ESR) shall at the call deadline be in the first four years (full-time equivalent research experience) of their research careers and have not been awarded a doctoral degree. Full-time equivalent research experience is measured from the date when a researcher obtained the degree which would formally entitle him or her to embark on a doctorate.
 
Applicants may not have resided or carried out their main activity (work, studies, etc) in France for more than 12 months in the 3 years prior to January 14th, 2021.Time spent as part of a procedure for obtaining refugee status under the Geneva Convention, compulsory national service and/or short stays such as holidays are not taken into account.
 
Applicants must be in possession of a European master degree or equivalent master's degree which would formally entitle them to embark on a doctorate.
 
Selection process
Application deadline: Thursday, January 28th, 2021 at 4:00pm (CET)

Candidates have to complete an online form in English in time via the web-based application portal. Applications will be evaluated through a three-step process:
Eligibility check of applications in Jan.-Feb. 2021
1st round selection: Evaluation & ranking of applications by the Review Board in March-April 2021
2nd round selection: Shortlisted candidates are invited for an interview session by the Selection Committee from May 19 to 21, 2021.
Final results will be given beginning of June 2021. Start of PhD on September 1st, 2021
 
Additional comments
The EuReCa PhD Program is in English.
International students willing to apply for the EuReCa PhD Program should inquire about the visa procedure regarding their country in preparation of the interview session in Paris.
 
Web site for application & more information
https://training.institut-curie.org/eureca
Please indicate that you saw this advert on EU-Life when applying.
This project has received funding from the European Union's Horizon 2020 research and innovation programme under the Marie Skłodowska-Curie actions grant agreement no 847718.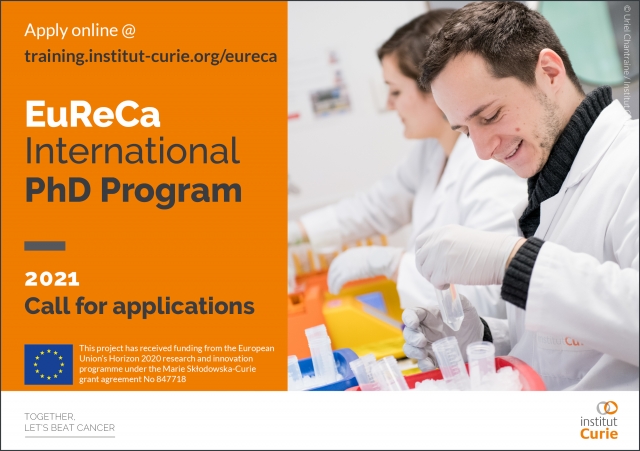 Organized by: